We are so excited to introduce our incredible March spotlight, Sonia Froman! Read more about her story and how becoming an advocate has changed her life below!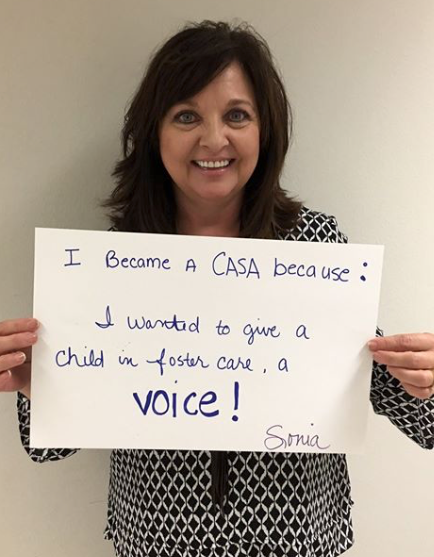 My husband and I became empty nesters in August of 2014. I had always worked from home keeping our farm books, volunteering at First Baptist Church on Wednesday nights and being a stay at home mom. Once our kids graduated and moved to Lubbock to attend Texas Tech, I knew I had a void to fill, but I wanted to be intentional on how I filled it. My newfound extra time needed to mean something, and I wanted to use it to make a positive difference in a child's life. CASA seemed like the perfect fit for me and the one organization that had an overwhelming need for dedicated volunteers in our community.  
To be a volunteer, it takes training and support from my family and supervisors. My role as a CASA, is to be an advocate for children in foster care. As an advocate, I visit the child on a regular basis to play, read books, and observe their placement. I become an extra set of eyes and ears to make sure the best interest of the child and their needs are fulfilled. Their needs can easily get lost in the process of removing a neglected or abused child from their home. This includes making sure their basic needs, along with medical and educational needs, are being met. 
As a CASA, you are sometimes the most consistent person in their life during this traumatic experience. The foster children that I have represented in the past have been, sweet, loving, and sometimes scared. Being the voice for a child in court has been truly one of the most rewarding things I have ever done.  
If you have considered becoming a CASA and you are willing to dedicate the time, your heart will be blessed. There is not a better way to teach your own children about compassion and helping others than showing them with your own actions. I have found no greater way to spend my extra time than helping a child in need - what better way to give purpose to that time than to stand up and be the voice for a neglected or abused child. 
Thank you Sonia! We appreciate all your hard work and thank you for choosing to share your time and talent to advocate for foster youth! You are an inspiration to us all! Click HERE to learn more about becoming an advocate.