We are so excited to introduce our incredible duo spotlight for August, Sarah and Dylan Hale! Read more about their story and how becoming an advocate has changed their lives below!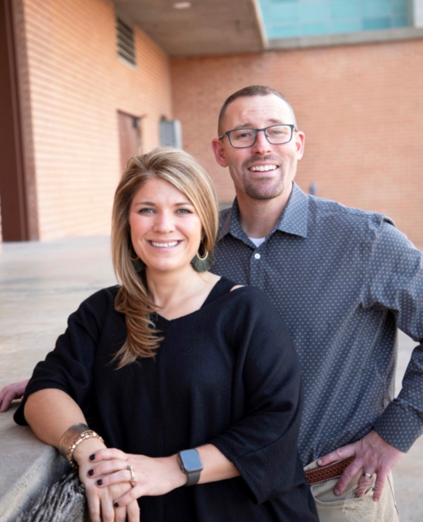 "Getting involved with CASA was a no brainer for us. Our friend and fellow volunteer, Kristen Yadon, told us about how great the organization was and we really identified with the mission of advocating for children in tough situations.  We were involved with PALS, Big Brothers/Big Sisters, and other child advocacy organizations so it was a natural continuation of that pursuit to help kids.    
For years we had been interested in CASA, but our boys were too little and needed our full attention at the time. Now that they are older we have some time to get involved. CASA is a perfect fit for us. We are empowered to help our kiddos. CASA allows for healthy and helpful boundaries.   
As CASA's, we help take the various pieces of child's case and lay out the details for the kiddos in a way they can understand. We are a neutral party that can focus on their feelings and concerns above any other aspects of the case. It is our job to make the personal side of the case to court to ensure the judge sees the whole story when making hard decisions for the children's futures.  
We "tag team" on our cases so that, if one of us is doing a visit, the other can do the write-up.  We find opportunities to dive into the case and let our strengths drive the activities.  For example, Sarah is sometimes better at talking to kids, whereas I'm sometimes better at testifying in court.  In addition to working cases we like to help with other activities like the toy drive, the style show, and help with office functions like stuffing envelopes or other administrative functions.     
This is very meaningful opportunity for us because we know that our advocacy and actions DIRECTLY affect the child's care.  If we don't advocate for them it is likely there won't be anyone.  CASA really is the missing link in our lives. We are reminded why we are here, why it matters, and why it is so important that we all see this world bigger than our own families. Our CASA children are just as important to the quality of our lives as we are to theirs. Being in their lives and seeing the reality of their situations has allowed us to be better voices not only for them, but for our community and school district. Plans for our local educational system and community need to include the reality and needs of all children. CASA has showed us how important our role is in those other areas as well.   
One of the biggest highlights of being a CASA is the moment we see those little faces each and every time! There is absolutely nothing better than the love we share with these babies!  
We also truly love the challenge of each unique case and the ability to come up with a plan and execute.  Very few organizations allow for such a vast opportunity to work on the mission.  We can put one hour or one hundred hours into the case and it is totally up to us.      
We also have seen firsthand how important it is to these children that they have a CASA. Having a CASA affirms to that child that there is an adult in their often chaotic world who has one single goal:  to advocate for them.  They recognize it and appreciate it.    
A case is just a case, but children have a story! It is our job to discover their story and to make very sure the court sees the whole story before choosing for the child!   
If you have been considering becoming a volunteer, do it! Yes, it is hard to hear and see what some of these children are going through, but you can be their hope, you can be their voice for a better future. Don't be surprised when they are the ones changing your life...for the better!   
Don't be scared or overwhelmed, the staff and supervisors have your back 100%.  Commit to doing the training and taking on ONE case.  At the conclusion of that case, if you decide it isn't for you, then you've still done a tremendous service for that child, the family, and the community.  Most likely you'll take on another one!  
Blessings come in so many forms, CASA is such a blessing to our lives!" 
Thank you Dylan and Sarah! We appreciate all your hard work and thank you for choosing to share your time and talent to advocate for foster youth! You are an inspiration to us all! Click HERE to learn more about becoming an advocate.