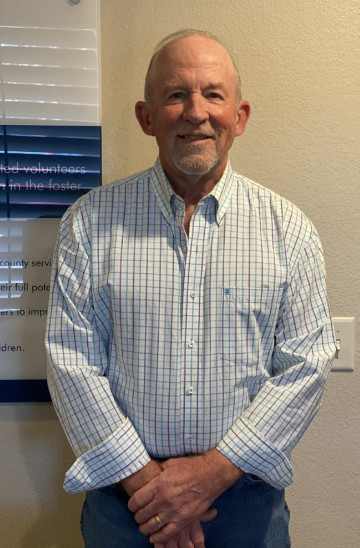 We are so excited to introduce our incredible December spotlight, Dub Wiseman! Read more about his story and how becoming an advocate has changed his life below!
After my retirement in 2015, I was looking for an opportunity to volunteer in Midland. I wanted something that would help me make a difference. At first, I couldn't find anything that really interested me, but I kept seeing CASA ads in the newspaper and felt a need to get more information. I had no idea what CASA was, so I went to their website. After reading about CASA, I knew right away that this was the opportunity I wanted. 
I see my role with CASA as wearing many different hats. As a CASA volunteer, I investigate and monitor all aspects of a child's case including placement, education, and health needs. I accomplish this by visiting the child regularly, reviewing records, researching information, and communicating with all parties involved including social workers, attorneys, parents, teachers, therapists, and care providers. I then have the responsibility to make recommendations to the court as to what is in the best interests of the child based on my findings through the submission of a report. 
I believe that my CASA work makes a difference in the lives of the children that are in the foster care system. When these children enter the foster care system they are scared, confused and lonely. I provide a reliable and stable presence in the children's lives to help encourage, support, and motivate them to keep going. 
One of my favorite parts of being a volunteer is when the kids give me their trust, sometimes it happens quickly and some other times it takes a few visits. Playing catch with the football, kicking the soccer ball or watching the younger kids get lost in a new book with me are a few of my other favorite parts of being a volunteer. Although there are many perks, really the best part of being a volunteer is seeing the joy in the children when they get to go home to their parents or attending a court session where the child is being adopted into another family. 
As a CASA Volunteer my goal is to look after the child's best interests so that there is no chance the child gets lost in the overburdened welfare system. I also know that a CASA Volunteer provides consistency to a child's life, the child sees and hears one voice that they know they can count on. 
To anyone who is considering being a CASA, they need volunteers from all walks of life. I would especially like to reach out to the more "experienced" or "seasoned" men in our community, there are not enough of us doing this important work. If helping turn around the lives of neglected or abused children appeals to you, CASA can provide that opportunity. Give it a try, sign up for the training and commit to a case – 21 kids, and 3 and half years later, I am still so grateful I took the leap, and I can whole heartedly promise you won't be disappointed either.  
Thank you Dub!  We appreciate all your hard work and thank you for choosing to share your time and talent to advocate for foster youth! You are an inspiration to us all! Click HERE to learn more about becoming an advocate.