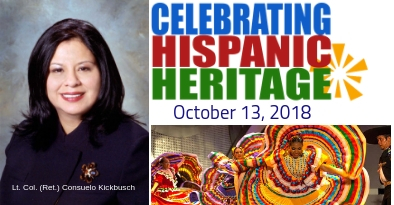 Lt. Col. (Ret.) Consuelo Kickbusch
Bring your whole family and join CASA of West Texas and Chevron as we celebrate Hispanic Heritage Month! Our guest speaker, Consuelo Castillo Kickbusch will share her inspirational story of breaking barriers and becoming the highest ranking Hispanic woman in Combat Support. 
Consuelo was born and raised along the border in Laredo, Texas and is all too familiar with the challenges of poverty, discrimination and illiteracy.  Although she grew up without material wealth, she was taught by her immigrant parents that she was rich in culture, tradition, values and faith.  Before embarking on a new career as a motivational speaker, leadership trainer and mentor, Consuelo Kickbusch retired from an illustrious military career with the rank of Lieutenant Colonel in the U.S. Army.
CASA of West Texas is very proud to partner with Chevron and the Midland Hispanic Chamber of Commerce to bring this extraordinary speaker to the area in honor of Hispanic Heritage Month. The Hispanic Cultural Center of Midland's Ballet Nuestra Herencia and Mariachi Nueva Generacion will also be performing.  This is a FREE event and everyone is welcome!  
Saturday, October 13, 2018
Doors open at 6:00 pm - Program begins at 7:00 pm
Yucca Theatre, 208 N. Colorado, Midland, TX