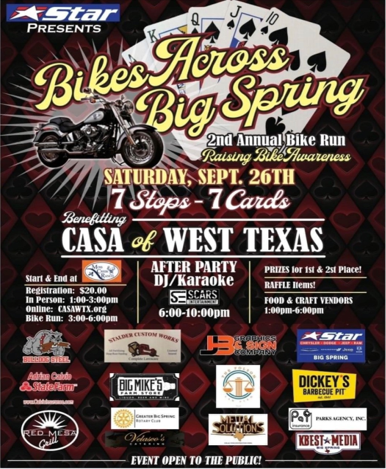 This is an event to promote biker awareness. The event will begin and end at Moss Creek Ranch in Big Spring, Saturday, September 26, 2020. The event is a bike run with a twist – 7 stops, 7 cards. Seven generous, local businesses have agreed to sponsor a "stop" where they will hand out playing cards for the bikers as they come through.
Registration will be $20, wild cards and t-shirts will be available for purchase, and prizes will be given for best and worst hand. 
You can register online, or the day of the event. If you register online, please save your confirmation email, you will need it. If you do not wish to register online, cash registrations will be accepted the day of from 1-3PM, with the bike run to follow. Afterwards, we will have a DJ, food vendors, beverages, and announce prize winners at 7PM. 
This will be an event you won't want to miss! Please contact Hope Stalder with any questions about the event.